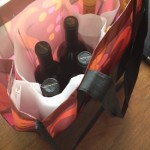 We went to a trendy restaurant for dinner one evening in the Dog-patch district of San Francisco a few years back and I brought a couple bottles of really nice wine along, based on some menu items I noticed while having a business lunch there a few weeks prior. I didn't think to call ahead to inquire about the  corkage fee and I more or less thought the fees should be at least reasonable and or something could be worked out, like a one-for-one or something mutually agreeable.
When the server came to the table, I mentioned we had brought a couple of choice bottles and were willing to share them with all of the staff (really), if any of them were interested and that I had carefully considered the selections based on some of their very interesting entrees. The server promptly told me the corkage fee was $35 a bottle and there was a two bottle limit. At the time, $35 a bottle was the most I had ever heard of paying for corkage. I was flabbergasted and completely caught off-guard.
I remember being pretty darn hungry and even feeling rather tired (low blood sugar?) after very long day at work but, I also found myself getting kind of perturbed and even somewhat indignant. I tried to do my best to remain calm and pleasant. I asked about the possibility of doing a one-for-one, to which I received a very solid, no-way-Jose in return.
The restaurant is (was?) a very popular place but, on this particular evening, I remember quite well, it was a little late and the place was half full (or half empty, depending on your take on things). I ended up telling the server that I was kind of taken aback and that I would keep my wine for another evening and decided very intentionally, I would keep my order to a bare minimum, which I indeed did. I had an entree, a side dish and a glass of water.
I told my dining companion, that after thinking about it a bit, I could have easily agreed to the corkage fees and then taken a portion (or all of it) of it out of the gratuity. We talked about that approach as evenhandedly as we could. We carried on in 'friendly debate' fashion, as I recall, not unlike the satire versions of 60 minutes Point/Counter-point that Dan Ackroyd and Jane Curtin did on Saturday Night Live in the 1970's (dating myself here a bit).
The result of our lively 'discussion' was that it was definitely not going to be fair to the server, although their attitude was a little less than cooperative, to stiff them on the gratuity, to make a point to the ownership.
As it turned out, our restraint in ordering any starters or cocktails, soups, salads, desserts or anything other than the core basics, was our two person attempt to let those at the top know that people that like good wines and good food, know what they like and should not feel as though they being penalized for bringing in some interesting vino to complement their dining experience. So, there and harrumph!
My recollection was that meal was excellent but, sadly lacking in the pairing of some amazing vintages that would have made an excellent meal an unforgettable culinary experience. Alas, the only real reason the meal was made so unforgettable was the iron-fisted, hard-nosed, attitude of the wait staff caring out the high dictum of their greedy overlords. Ultimately, we never went back to this establishment ever again…. Oh well!
So, the question then becomes… Who ultimately lost out in the long run? With hundreds, if not thousands of dining options in the greater San Francisco Bay Area, and no shortage of great venues charging reasonable or in some case no corkage fees, did we feel burned or somehow shorted? Not so much. Maybe just ever so slightly fleeced.
It would be interesting to take a shot at trying to roughly calculate just how much revenue this establishment has lost over the years since our encounter there in terms of goodwill, recommendations we did not make to our friends, co-workers, fellow wine club members, positive ratings left on dining reviews sites and so forth and so on… I think it is fair to say, the restaurateurs ended up losing out on a lot more than we ever did and this could easily be multiplied by scores of other fellow members of the BYOB set who had the same experience there.
There is an interesting Blog posting by W. Blake Gray along with some very spirited comments following it, on the topic of Tipping on Corkage. Well worth a look, while sipping a glass of your favorite varietal!
Cheers, Mike @ NCF